10 Brazilian Movies to Learn Portuguese and Be a Master in Brazilian Culture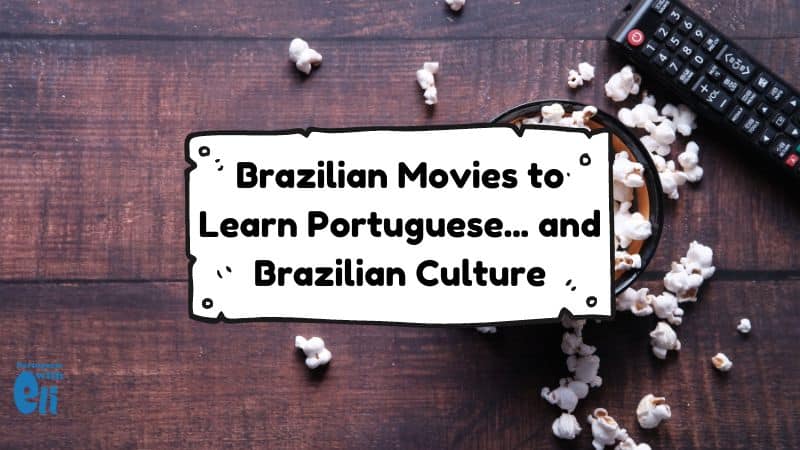 Many of my students say they have a hard time watching Brazilian movies to learn Portuguese.
And that's understandable — the language spoken in those movies tends to be informal and regional…
But if they genuinely want to speak Portuguese and, most importantly, understand what we say, watching Brazilian movies to learn Portuguese is fundamental…
Even if they don't understand much of the words.
It's a fact: the more you watch and listen, the more you understand. So, with that out of the way, the remaining question is: what Brazilian movies to watch if I'm learning Portuguese?
Well, not the latest romcom, as movies in this genre tend to follow international standards and be all too familiar. It won't teach you much about the culture.
To make your life easier, I came up with a list of 10 movies I enjoyed watching. These movies have something to teach you language-wise and culture-wise.
I include the trailer for each. Most of them can be found on YouTube for rental. I'm not sure if Netflix or other big streaming services have them. But in another article, I have a list of the best movies and series on Netflix that can help you to learn Portuguese and Brazilian culture.
City of God (Cidade de Deus) – 2002
Synopsis: Based on the novel by Paulo Lins, this film follows the lives of two boys growing up in a violent neighborhood of Rio de Janeiro, showing their diverging paths as one becomes a photographer and the other a drug dealer.
Why watch: City of God offers a raw, intense look at Brazil's social and economic disparities. It can help foreigners understand the complexities of Brazilian society while also providing a thrilling cinematic experience. The authentic dialogue will also aid in learning colloquial Portuguese.
Central Station (Central do Brasil) – 1998
Synopsis: A retired schoolteacher and a young boy embark on a journey to find the boy's father after his mother is killed in a car accident. The film beautifully portrays the unlikely friendship that develops between them.
Why watch: Central Station showcases the diversity of Brazilian culture and landscapes and the importance of human connections. It provides an opportunity to learn about Brazilian regional accents and expressions while exploring themes of empathy and redemption.
The Motorcycle Diaries (Diários de Motocicleta) – 2004
Synopsis: Based on the memoir of Ernesto "Che" Guevara, this film follows the journey of Guevara and his friend Alberto Granado as they travel through South America, including Brazil, on a motorcycle. This transformative journey plays a role in the development of Guevara's revolutionary beliefs.
Why watch: Although not exclusively focused on Brazil (it's actually a collaboration of many countries), The Motorcycle Diaries offers insight into the diversity of South American culture and the social and political issues of the time. The film provides a chance to hear different accents and dialects from across the continent.
Elite Squad (Tropa de Elite) – 2007
Synopsis: This action-packed film tells the story of Captain Nascimento, a member of Rio de Janeiro's elite police force, who is searching for a worthy successor as he faces personal and professional challenges.
Why watch: Elite Squad looks at the complexities of law enforcement in Brazil, exploring themes of corruption, violence, and the gray area between right and wrong. The film offers an opportunity to learn about Brazilian slang and police terminology.
Black Orpheus (Orfeu Negro) – 1959
Synopsis: A modern adaptation of the Greek myth of Orpheus and Eurydice set during Rio de Janeiro's Carnival, this film tells the tragic love story between Orpheus, a streetcar conductor, and Eurydice, a young woman on the run.
Why watch: Black Orpheus is a visual and musical feast showcasing the vibrancy of Brazilian culture during Carnival. The film offers a chance to learn about Brazilian music, dance, and folklore, as well as the Portuguese language, in a poetic and musical context.
Aquarius – 2016
Synopsis: Clara, a retired music critic, is the last resident of an old apartment building in Recife. When a construction company tries to force her out, she fights back and stands her ground.
Why watch: Aquarius explores aging, gentrification, and the strength of the human spirit. The film provides a window into Brazilian society and an opportunity to hear the unique accent of the Northeastern region.
Bacurau – 2019
Synopsis: Set in a near-future Brazil, this film follows the inhabitants of a small village, Bacurau, as they face mysterious threats and must come together to protect their community.
Why watch: Bacurau is a genre-defying film that blends elements of Westerns, science fiction, and political allegory (a strong one, if I may say so). It offers a unique perspective on Brazilian culture and the resilience of its people, as well as the opportunity to learn about regional dialects and the diversity of the Portuguese language.
The Second Mother (Que Horas Ela Volta?) – 2015
Synopsis: Val, a live-in housekeeper for a wealthy family in São Paulo, is forced to reevaluate her life and relationships when her estranged daughter unexpectedly comes to live with her.
Why watch: The Second Mother is a poignant examination of Brazilian society's class dynamics and social inequality. The film provides an opportunity to learn about the different accents and vocabulary used by people from various social classes.
The Way He Looks (Hoje Eu Quero Voltar Sozinho) – 2014
Synopsis: This coming-of-age drama follows the story of Leo, a blind teenager who struggles with overprotective parents and his developing feelings for a new classmate, Gabriel.
Why watch: The Way He Looks is a tender, heartfelt exploration of love, friendship, and self-discovery. The film offers an insight into the lives of Brazilian teenagers and the importance of inclusivity while providing an opportunity to learn about everyday Portuguese vocabulary and expressions.
Carandiru – 2003
Synopsis: Based on a true story, Carandiru tells the harrowing tale of the infamous São Paulo prison and the events leading up to the 1992 massacre, in which 111 inmates were killed during a riot.
Why watch: Carandiru provides a thought-provoking look at the Brazilian penal system, humanizing its inmates and exploring themes of redemption and survival. The film offers a chance to learn about the slang and vocabulary used in prison environments while shedding light on a dark chapter of Brazil's history.
So, should you watch only these Brazilian movies to learn Portuguese?
Of course not!
You can watch more. This is a list I compiled while thinking about the lessons these movies could teach. They offer a panorama of what we produced here, but the Brazilian cinema is much more encompassing and productive than that.
Tell me what you think if you have watched any of the movies on this list!
And if you would like to suggest additional movies that should be on this list, let me know in the comments below!