10 Best Netflix Series and Movies to Learn Brazilian Portuguese in 2023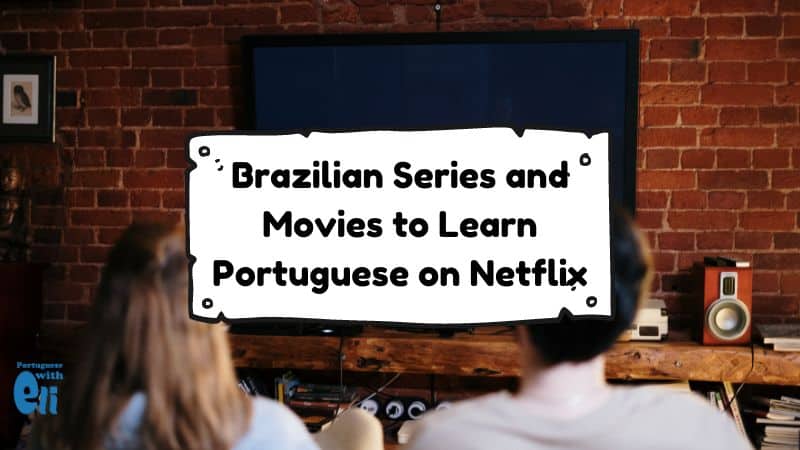 I have to start this article with a confession:
I'm not a big fan of series. Not because they aren't enjoyable – they are highly engrossing, and to this day, I love Saul Goodman and Walter White. However, as the episodes get longer and longer and my time dwindles, I can't keep up with so many. That's why I prefer movies – it's once and done.
(By the way, if you want to check some of my personal suggestions for movies you should watch to learn Brazilian Portuguese – and culture – click here)
So, with that said, many national and international friends pitched in with their suggestions to compile this list of Netflix Series and movies to learn Brazilian Portuguese.
And that's my confession.
With that out of the way, here are my 10 suggestions for Netflix series to learn Brazilian Portuguese.
DISCLAIMER ALERT
Some series and movies may have been ousted from Netflix's catalog. If you don't find them, consider that a specific series may not be available in your country.
3% (3 por cento)
Why watch: This Brazilian dystopian thriller series offers an engaging storyline that showcases various social classes, providing the opportunity to learn different registers of Brazilian Portuguese.
What to learn: Formal and informal language, and vocabulary related to science fiction and politics.
The Mechanism (O Mecanismo)
Why watch: This crime drama series, inspired by real-life events, delves into the world of Brazilian politics and corruption. It offers exposure to legal and political vocabulary while keeping you hooked to the plot.
What to learn: Political and legal terminology, and conversational Brazilian Portuguese.
Sintonia
Why watch: This series, set in São Paulo, follows the lives of three friends as they navigate the worlds of music, crime, and religion. It is an excellent way to learn about Brazilian youth culture and contemporary slang.
What to learn: São Paulo accent, youth slang, and expressions related to music and crime.
The Edge of Democracy (Democracia em Vertigem)
Why watch: This documentary provides a deep understanding of recent political events in Brazil, offering an excellent opportunity to learn specialized vocabulary and improve listening comprehension. And due to my personal context, this was one of the most impactful documentaries I've watched. If you'd like to discuss it with me, feel free to do so in the comments below or a one-to-one conversation.
What to learn: Brazilian political history, specialized vocabulary, and formal language.
The Invisible Life of Eurídice Gusmão (A Vida Invisível)
Why watch: Set in 1950s Rio de Janeiro, this drama tells the story of two sisters who become separated. It offers exposure to historical Brazilian Portuguese, including expressions and vocabulary from the period.
What to learn: Historical Brazilian Portuguese, formal and informal language, and idiomatic expressions.
The Chosen One (O Escolhido)
Why watch: This suspenseful series, set in a remote Brazilian village, will expose you to regional accents and vocabulary while keeping you entertained with its mysterious plot.
What to learn: Regional accents, vocabulary related to medicine and religion, and informal language.
Samantha!
Why watch: This comedy series about a former child star trying to regain fame is an excellent way to learn about Brazilian pop culture and humor while improving your listening skills.
What to learn: Brazilian humor, colloquial language, and pop culture references.
Most Beautiful Thing (Coisa Mais Linda)
Why watch: Set in 1950s Rio de Janeiro, this drama series follows a woman who opens a Bossa Nova club. It offers the opportunity to learn about Brazilian music, culture, and language from that era. Poignant is a word that describes many of the scenes of this series.
What to learn: Historical Brazilian Portuguese, idiomatic expressions, and vocabulary related to music and nightlife.
Good Morning, Veronica (Bom Dia, Verônica)
Why watch: This crime drama series, based on a bestselling novel, follows a police clerk who becomes involved in an investigation of domestic violence and police corruption. The show provides an engaging story with diverse vocabulary and accents.
What to learn: Brazilian accents, vocabulary related to crime and law enforcement, and conversational language.
All the Reasons to Forget (Todas as Razões para Esquecer)
Why watch: This romantic comedy-drama film tells the story of a man trying to overcome a breakup while providing a modern perspective on relationships in Brazil. The movie offers an opportunity to learn informal Brazilian Portuguese and everyday expressions.
What to learn: Informal language, romantic and relationship-related vocabulary, and contemporary Brazilian culture.
Now, how can I learn Brazilian Portuguese with Netflix series and movies?
You can play this game in two ways:
You can simply sit down and watch. That's it.
You'll want to do that if you don't have much time. It's a good thing to just listen to the language. That's one of the ways I suggest you improve your listening skills, by the way – and you'll find more here.
But if you have some time to spare and would like to milk every last minute you have, then do this:
Step 1: Choose Your Content
Pick one of the series or movies suggested here (and in other places). Choosing content that intrigues you will keep you motivated and engaged.
Step 2: Prepare Your Tools
Gather the following resources before diving into your chosen content:
Pen or pencil: No explanation is necessary here, right?
Dictionary: Have a reliable online Portuguese-English dictionary or translator, such as DeepL or WordReference, to look up unfamiliar words.
Notebook: Keep a notebook to jot down new vocabulary and phrases.
Step 3: Active Watching
Instead of passively watching, engage with the content actively:
Watch with English subtitles first to understand the storyline. This will be less taxing on your cognitive powers, leaving space for your brain to process more information in the future.
Rewatch with Portuguese subtitles to connect spoken words with written text. Now that you know the context, you can focus on the language.
Pause to look up new words and phrases in your dictionary. Don't pause for each word, though. If something catches your attention or sense something is important to understand, look it up: trust your guts to determine when something is important.
Take notes on new vocabulary, expressions, and grammar structures. And doing so longhand does help retain more vocabulary 😊
Step 4: Use what you learned
Imitate the actors' pronunciation and intonation to improve your speaking skills:
Pause and repeat dialogues out loud, focusing on pronunciation and rhythm. This technique is known as "shadowing," and it effectively automates some small chunks of language that we use all the time.
Record yourself speaking the lines to compare your accent with the actors'.
Use role-playing exercises with a language partner, using dialogues from the series or movie.
Step 5: Engage in Discussions
Join online forums or social media groups dedicated to Brazilian series and movies. Discussing the content with others will deepen your understanding of the language and Brazilian culture.
If you'd like to join a group of learners and speakers curated by me (well, I am the manager, after all), check our conversation club.
Step 6: Rinse and Repeat
Continue watching different Brazilian movies and series, gradually increasing the difficulty of the content. As you progress, switch off the English subtitles and rely solely on Portuguese subtitles.
It will take some time to get used to, but you'll eventually reach a level you're comfortable watching stuff without subs.
Do you have any suggestions for us to include on this list?
Now that you have a few suggestions… and a method to learn from Brazilian series on Netflix…
It's time to watch!
Let me know in the comments below if you'd like to include a different series here. And if you've watched any of them, share your thoughts on the series with me!