Online Brazilian Portuguese Lessons with Native Speakers Now!
If you've been looking for Brazilian Portuguese lessons that are interesting and motivational and that will have you finally speaking Portuguese — without grueling grammar work and utterly uninteresting textbooks — then read on.
You may be learning Portuguese because:
You want to talk with your significant other…
You have so many Brazilian friends you can't help but want to understand what they talk about among themselves…
Or even out of sheer curiosity…
But you feel you have to translate every single word in your mind before saying what you want. Or you are frustrated with such seemingly simple pronunciation points that other people grasp so easily.
Well, studying alone isn't always a problem. But if you want to learn Portuguese quickly, then counting on a Portuguese tutor to help you might be an idea to consider.
Starting Out and Need Personal Guidance? Basic Portuguese Lessons for You
Have you ever felt that despite being able to speak Portuguese you keep bumping against roadblocks and falling in potholes along the way?
That might be because you never had any formal instruction in Portuguese.
Apps and textbooks can get you just so far. No matter how good they are, they won't teach you everything you need to know.
That's why considering basic Portuguese lessons might be necessary.
In those lessons, you'll be reviewing — or learning for the first time — things such as:
Greeting in Portuguese
Counting and mastering the numbers
Vocabulary for everyday activities (these are constantly overlooked!)
The necessary tenses for you to speak correctly and with confidence…
and much more.
They are personalized Portuguese lessons that match your level and take you to the next one as fast as possible. If you'd like to know how our Portuguese Masterclasses can help you, please click on this link.
A Crash Course in Brazilian Portuguese for Beginners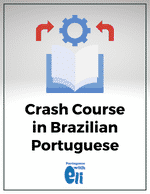 But what if you've never studied Portuguese and want to start from scratch?
The crash course in Brazilian Portuguese is for those students who have never learned Portuguese before or who have learned a little bit but do not feel confident with what they've learned.
Unlike most online courses that you can take at your own pace, this one has a set schedule. And it is so because we — you, your classmates, and I — are going to get together twice a week for four weeks. You'll have assignments and supporting material — everything to help you be well equipped to deal with simple situations with the confidence that what you're saying makes sense and is enough for survival.
"I already know Portuguese but need to hone my speaking skills (and Grow my vocabulary!)"
At the intermediate level, grammar instruction doesn't need to be so intense. You actually have to speak and put into practice all of that knowledge acquired after you started out. That's why our intermediate-level offers are more geared toward speaking.
If you are more of a reader, you can join us in our Book Club. Every month or so — we take our time reading our books — we read a Brazilian classic more closely. And once a week we get together and discuss what we have read. There are optional assignments, but reading is mandatory. And by clicking here you'll visit a page with information about the Brazilian Book-of-the-Month Club.
And if you would like to just get together and chat, you can join us in our Conversation Club after Hours. For you, it will feel like just getting together and chatting about the specific topic that has been picked by yours truly. I say it will feel like just getting together and chatting because I plan the lessons so that you don't have to worry. Because the more we speak, the better we get the participants of the Conversation Club after Hours gather more frequently. To access the current schedule and see more information about it, please follow this link.
Your Turn
I know, deciding on a Portuguese teacher online is a tough order. You don't know much about me, and you don't know whether you can trust me.
I understand it. I feel the same.
But if you are reading this, probably you have something in you that says you want to give it a try.
After all, I put up this website and it's been online for quite some time now.
It's full of content… I always respond to emails… and you always see new articles being added every month.
I also have testimonials and have been teaching online since 2016.
But if you still have questions about that, or if you'd like to get more information, I suggest you grab one of my most popular offers, Why So Tense, an overview of the most commonly used verb tenses in Portuguese.
If you like what you see, you can get in touch with me and ask further questions.
But don't postpone your plans of learning Brazilian Portuguese.
If not now… When?
I'm waiting for your message 🙂
Thank you,
Eli Sousa
Portuguese teacher