Learn Brazilian Portuguese Free, Online, that You'll Actually Use
Sign Up Today: The Next Class May be Starting Anytime!
If you want a way to learn Brazilian Portuguese free online, you'll find out how on this short page.
Well, it's not really easy to find good resources for you to improve your speaking and listening in Brazilian Portuguese. You may have seen it for yourself.
And sometimes you just don't feel like taking regular classes at the very beginning. You may probably want to pick up some Portuguese before committing to a regular schedule.
Even though here at Portuguese with Eli you can find lots of resources, it's not streamlined in a way that you can follow as a course. We're more like an encyclopedia rather than a step-by-step guide.
Well, that's over today — from now on, we offer free Brazilian Portuguese lessons weekly on YouTube and other social media.
Ok, but Who Are You and Why Should I Listen to You?
I'm Eli, in case you don't know. I've been learning languages since I was a kid. And I'd like to tell you my story.
One thing I am very resentful of in my life is that as a kid I didn't have the money to go to a language school.
Not that my friends were much better off. We all were poor, and none of us went to any language school. But they didn't like learning languages. I did. So I had to survive with whatever book I could put my little grubby hands on.
I was lucky, though.
In my neighborhood, people had this strange habit of throwing textbooks away when they didn't need them. Every so often I would search for books in other people's trash. Usually, I would find some good gems there — novels, nonfiction books — and once in a great while I would find the real treasure: language textbooks.
I still remember the first textbook I found this way. Its cover was orange and most of the texts were fairytales. It was what they call here in Brazil "Um livro de inglês técnico," a book that teaches you English for reading purposes only. And it was quite effective at that.
And all the while I was studying languages, I could never go to a language school.
When I started working, I went to a public school to learn German. It was a nice experience — for the first time I had colleagues — but it didn't last long
My job didn't care about the fact I loved languages. I worked the graveyard shift, came back home at seven-thirty in the morning, went to school at one p.m. since the school was a long way from home, and had to be back before six so I could have a couple of hours of sleep.
And even though I loved learning languages, at the time I had more pressing needs to tend to.
When I started teaching languages, I felt many of my students had the same situation. Some would never talk about that in these terms — lack of money —, but the fact is, sometimes our budget is not enough.
Even though I cannot work entirely for free — not that I want it, since teaching is hard, backbreaking work — I thought I might find a way to give back what I have received from the world — from the many generous people who have produced content that I have used in my learning journey.
But sometimes it doesn't boil down to not having the financial resources to learn Brazilian Portuguese. Mostly it's because it's very hard to find good materials online for free in a somewhat streamlined manner.
You might want to pick up some Portuguese before committing to lessons, and having these free Brazilian Portuguese lessons online makes for good preparation. When you decide to commit to a full-blown course, you'll be in a better position to benefit from it.
And that's why decided to create these free lessons for you to learn Brazilian Portuguese free online.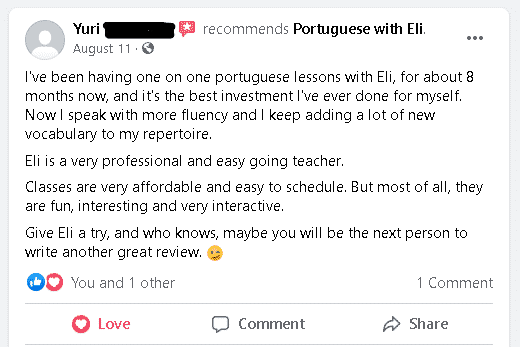 Portuguese that You'll Understand
If you want to learn Portuguese casually before committing to a full-blown course or private lessons, that's a good way to start — the lessons are entirely in Portuguese.
Many people stick to English until they're confident using Portuguese. The problem is, they never feel confident. And thus, the bad habit of using English whenever in a hurry, worried, confused, or stressed comes up and is established.
Listening to a lesson entirely in Portuguese might be a little bit challenging at first, but in a moment, I'll tell you a secret that is going to help you understand way more of what you hear in Portuguese during our lessons.
Use Portuguese Right off the Bat and Become More Confident Faster
The advantage of listening to Portuguese from the get-go is confidence. You want to understand Portuguese the way people actually speak it.
If you're using English (or your native language) when you should use Brazilian Portuguese, you will feel you're progressing, but the truth is, you won't. You're becoming more proficient in grammatical terminology and translation, but you're not improving your retrieval and use of the language.
We don't want you to feel that you are progressing when you are not.
A Secret Resource to Help You Get More from Our Portuguese YouTube Lessons
The secret I was talking about is that the free Portuguese lessons that we hold weekly on YouTube also have a worksheet associated with each lesson. It means that you are going to understand way more of what I say because I am going to keep to the worksheet. There will be questions and answers as well.
With the Portuguese worksheet, you can engage in what is known as active learning.
We have two modes of learning. Passive and active.
Passive learning happens when you're not actually paying attention to something, but you're engaging with it. When you're listening to your favorite podcast while doing the dishes, for example, you're doing passive learning. You are acquiring that information. Even though you're not paying attention to it, some of it is bound to stick.
Now, you can speak your language passively. Speaking Portuguese is an active activity. You have to actually use the words and put them together in a sentence. Only then will you know whether what you said makes sense or not.
And you'll get the worksheet for each lesson before the lesson takes place so that you can follow the conversation at the right level.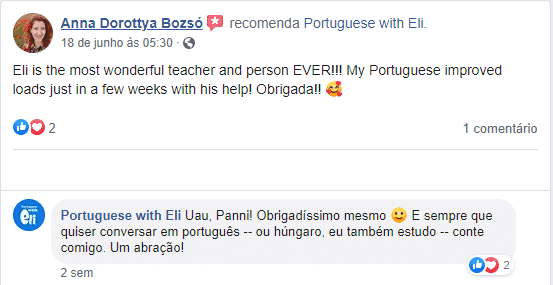 Delivered to Your Email, so You Won't Miss Any of the Lessons
The worksheets are going to be available to those who sign up for it — in this way, we can guarantee that you'll receive the worksheets and keep to it.
By doing so we get to reproduce a classroom setting — you'll join a community of learners of Portuguese, have a chance to exchange ideas with them, and have the built-in motivation that following a schedule brings. You won't need to deal with the frustration brought by procrastination if you have a clear goal to reach.
But These Lessons Are Not for Everyone, and They're Not Everything
But even though you'll benefit a lot from these lessons, you have to know upfront that…
They're not a free step-by-step course (a step-by-step course often requires personal attention, something that we can provide you with in our courses and lessons)
They're not a textbook based course (if you need to use a textbook. We have a few recommendations in our website but the beauty of these lessons is that you can study one lesson here and another lesson there and they stand by themselves)
They're not in English… Or in any language or other than Portuguese for that matter (we want you to challenge yourself and improve faster, not offer you a crutch.)
It's not a course in which you can accumulate assignments and do them quickly in the last minute (we want to give you that added pressure that you'll have in real life when you're using Portuguese to talk to your friends)
It's not a place for detailed feedback (even though we are starting small, we are bound to have many students at the same time — it is humanly impossible to offer personal feedback to so many people at the same time. If you need personal attention for faster results, we have courses for that.)
Join Today because the Next Lesson May Be Gone by Now
As much as I want to help, I have to limit access to the live lessons. If I leave the lessons indefinitely on YouTube, you won't feel you need to finish them. And you'll give up, feeling that you can't complete anything you begin.
I know this feeling. I've done it myself. I have many books with the shrink wrap on them, and many online courses I haven't finished.
By setting a deadline to complete the sessions, we want to make sure you have that pressure to keep learning. That way, you can count on your own motivation and the motivation we give you.
If you would like to join us, fill in the form below and we'll see you soon.
Eli Sousa
Portuguese teacher
In case you decided to jump to the final section, here's a summary of everything you'll get when you sign up for the weekly Brazilian Portuguese lessons on YouTube:
a worksheet to prepare for the video lesson;
one live lesson whose link will be sent through email;
help during the live session;
weekly sessions guaranteed to help; and
special offers in our weekly newsletter
For more info, please refer to the letter above.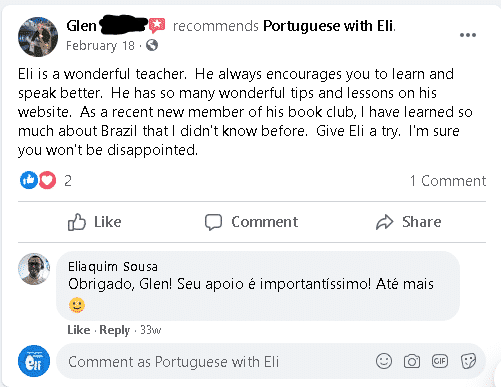 Portuguese With Eli
4043 Rua Silveira Martins
Salvador, BA 41000-000
www.portuguesewitheli.com