Kiss boring "Jane-goes-to-college" stories goodbye and learn more vocabulary in the meantime.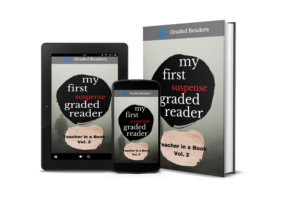 Dear Portuguese learner,
If you're anything like me, you've been looking for books in accessible Portuguese. And you've probably come across "graded readers" with stories about a woman who goes to college and makes friends and lives a happy life…
Nothing wrong with that. At least, not morally. But it is so boring.
The problem is, most graded readers out there want to "teach" you something. And, teaching for them means…
Having you sit in front of a computer screen and do fill-in-the-gaps kind of exercises.
Taking grammar lessons when you're not ready for those grammar topics.
Discussing pronominal placement in Portuguese when all you want is — speak with more confidence!
And you want to have…
Engaging stories that keep you on your toes.
Helpful vocabulary that goes beyond "college life".
A read in Portuguese that is not only for learning but also for entertaining.
After all, that's why you read in English. You read to learn… And to be entertained.
And that's what I'm bringing to you today. Two modern and suspenseful stories to help discover that there is fun behind learning Portuguese.
A Scientifically Put Together Book to Make the Most of Your Time
We found a way to do it without losing the story per se, so you can read the stories at a good pace. Not only that. You also be able to:
read faster (and feel the motivation pouring in);
rely on our relevant notes (and sidestep the frustration of stopping at every three words);
find out common Portuguese collocations (avoid faux pas and have intelligent conversations… In Portuguese);
And the best part is that these stories make for great re-readings and discussions.
My First Suspense Graded Reader brings you two vocabulary-boosting stories that'll do much of the heavy lifting with – and for – you.
The casual learner gets something out of it.
The serious learner gets a lot out of it.
And everybody always wins.
How Much Is That Worth to You?
This is going to be an invaluable asset going forward, no matter the price tag.
All the knowledge you're going to acquire from this book could be packaged in a course and sold like that.
And as such, it would require at least five regular lessons to go over the contents cursorily.
One regular lesson with me costs twenty dollars. So, it would add up to 100$.
Not only that, you would have to arrange a good time for you to have your lessons… And the Internet connection might not help… Or something could come up and you would have to cancel just before the lesson time…
But not with this asset.
Through this exclusive offer, you'll get the "My First Suspense Graded Reader" for much less than a hundred dollars.
You'll pay only $12.95 for this introductory offer. That's 46% off its regular price.
And let me restate all you're getting:
two modern and engaging suspense stories (so that you can transport yourself into the story using Portuguese, invariably improving your vocabulary retention);
a printable e-book conveniently delivered to your email inbox (retain more information by writing on the printed document and make the most out of your investment);
exclusive email support (never let any nagging question go unanswered)
an exclusive grammar focus section (speak what you mean with a more nuanced Portuguese)
But wait — if you purchase today through this offer, you'll also get exclusive feedback on your writing.
More details of this bonus — that goes for twenty dollars in the regular lesson — are inside the book.
An Ironclad 100% Satisfaction Guarantee
I totally guarantee your satisfaction with my first suspense graded reader.
If you're unhappy for any reason… Or for no reason at all… Just let me know in thirty days.
I'll give you a full and prompt refund on your purchase price. And you can keep the book as my way of saying thank you for having given it a try.
That way, you risk nothing.
You can go through the stories… Take your time… Have fun and learn Portuguese.
But if you are on the fence about this, I do urge you to hurry.
Because it's very costly for me to keep offering in-depth and detailed feedback on your writing — I'm a solo teacher — I have to limit the number of books I can sell at such a competitive price.

I understand there are other options out there. And even cheaper ones.
But if you've read up to this point, my bet's that you find everything exciting and interesting. It makes sense to you.
You probably can visualize yourself immersed in the stories that will take you to places that feel all too familiar…… And you'll have fun following their struggles.
I understand you may be a bit nervous, but if not now, when?
So, don't wait – order your book now. You'll be well on your way to taking your Portuguese to the next level.

PS: Inside the book, you'll find instructions to send your essay to be corrected. Also, remember: you'll have unlimited support to questions related to your book. This way, you can guarantee that you'll nail it.