Now you can speak more Portuguese, boost your confidence, and all that in 30 minutes or less per day
With just 30 minutes a day for the next 21 days you can boost your confidence to speak Brazilian Portuguese.
What's more, you'll have tackled the topics that come up in conversations most often…
And all that with the support of a professional teacher with a proven system to help you build the foundation to achieve your goals.
If in such a short period of time you could achieve all that, and speak more confidently, what would that mean to you?
Dear Brazilian Portuguese learner,
If you would like to invest very little time and reap the benefits as if you had invested dozens of hours into studying Portuguese, I'll show you how you can do that in a simple and easy manner.
I've been helping people to speak Portuguese since 2013, working individually with students. Time and again, the ones who advanced the fastest were those who had a system to get them speaking.
To some, it took 2 to 3 years, and others developed their own system in as little as two months.
But no matter how long it took, they experienced much faster progress when they finally had a system in place.
A reliable formula and framework they could resort to whenever they don't know what to do.
I know, it sounds like they are professional learners who pour over books for hours on end
But they aren't professional learners. There are people like you and me — everyday people who have a job, a family to take care of, and a life to live.
They can't just sit down five hours a day and study.
That's why they really change their lives and speak better Portuguese once they master the system.
If your goal is to speak Portuguese with confidence — even if you make the occasional mistake — you can follow their steps.
Of course, everyone sets up a system eventually. But it may take them years before they reach something workable.
And what I want to show you here is that you can build that same system in 21 days.
Join the challenge today! I want to join the challenge and speak Portuguese in a fun way for the next 21 days… and beyond!
---
The wide variety of topics are interesting and Informative and Eli's sense of humor is evident throughout.
The wide variety of topics are interesting and Informative and Eli's sense of humor is evident throughout. [I was especially pleased that it helped me...] Improve my listening and comprehension skills as well as expand my vocabulary and reinforce grammar concepts.
[As a result of using the Learning Guides and all other resources of the Continuing Education Program, I...] stay interested and engaged in my Portuguese studies due to the wide variety of ways to interact and learn. [I recommend joining the Continuing Education Program to] Anyone who wants to improve their Portuguese language skills while also learning about Brazilian culture.
---
Jeanie B
Salt Lake City, Utah
Meet Eli, your guide in this system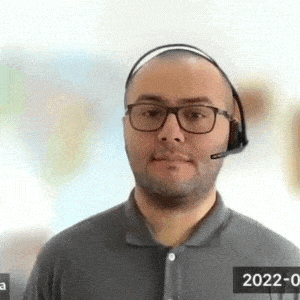 It's time I introduced myself properly.
I'm Eli.
The first thing that I can tell you is that I was not born a teacher
I was a blue-collar worker for a long time in my life. And my first job was in logistics. I loved it. It was marvelous to move things around and know exactly when something would reach a specific point.
I would have been very happy with my life in the logistics field if I didn't study any foreign languages. I had been studying foreign languages since I was 10.
I didn't have enough money to go to language schools. So what I did was I got books from my neighbors' trash. They used to throw books away in my hometown.
I picked up many languages. But all the while I was learning languages I also held blue-collar jobs. And as I said, I was quite happy with it. But I needed to have more time to study and working from 9:00 to 5:00 (or sometimes 2:00 to 10:00, or 10:00 PM to 5:00 AM) wasn't really letting me learn a language. So I thought, "well, how can I learn the language and work at the same time?"
Then at 24, I started studying French and linguistics at the university.
And I realized:
I like teaching languages!
And working one-on-one also gave me a good testing ground for new techniques — I could focus on what I thought was effective.
And then through knowing what worked in practical terms and being exposed to linguistic theories, I could see how to transfer strategies to my students.
I cut my teeth in the one-on-one field. I have always taught private lessons. And I also worked for a few schools and reputable institutes like university departments.
But while being a teacher in a school is somewhat "easier" (if one could say that!) as a private teacher, one has to have a proven track record and keep delivering results.
And that's what I bring to you — results.
I have worked with more than 100 people individually and most of my clients have been with me for more than two years. Some are five years into our student-teacher relationship. It's really rewarding to know that we've been working together for so long.
And I have drawn from them the system I'm about to teach you.
Success is never by chance
One common trait my most successful students share is that they are busy. Not all of them are executives of huge companies with thousands of employees. Most of the time they are people like me and you, with a career, years of experience under their belt, a family, friends, and an experience-rich life they want to keep taking care of.
This means they don't have much time to devote to learning Portuguese. It's an important language for them, but they have to make time for the language, you know?
That's why whatever they use in their daily life has to be effective.
Otherwise it frustrates them.
As I said, though, successful students have started progressing faster when they found a system they could rely on and use.
The system helps them to build habits — and it's more important than you might think.
Okay, I'm interested, but what's in it for me?
Good you'd ask that question 😊 Because once you join the challenge, you'll get:
21 days of programming, with one exercise every single day. You'll always know what to do, thus removing any frustration that might come from not knowing the next step.
Simple and practical exercises that can be finished in one sitting. It's not the number of exercises you do, it's how you do them that matters. And the exercises in our 21-day challenge present you with just that — tasks you can finish and learn something from.
Personal feedback on the exercises. Not only will you have the chance to write and get the words right on paper, you'll have true interactions with a native speaker but on testing ground. You can make as many mistakes now as you want so you don't need to make them in the future!
20 different and common topics that come up in every conversation. By rehearsing your answers to those common topics you'll have exactly what to say whenever you're talking to someone you just met. Never be at a loss anymore, and speak with confidence.
A "lifeline" to your teacher after the course. You might visit forums online and ask questions. But no one guarantees you'll have answers that have been vetted by a professional. With your lifetime access to our 21-day challenge, however, you get to ask your questions about the content and other topics and you receive an answer in a timely manner.
Your very own Portuguese portfolio. After 21 days, you'll have written — or recorded — proof of what you are able to do. You can always go back to it to see how fast you have progressed, deriving a sense of achievement each time you do so.
Weekly live office hours for the duration of the challenge. I said you are not going alone and you are not going alone. Every week you and your colleagues get together with me for a quick conversation about what you have learned during that week. You can even be invited to join me in the live session and practice your speaking!
Here's what we're going to learn in the 21 days
The challenge does take 21 days, but I know all of us work in some way or other. I don't want you to refrain from taking part in the challenge for fear you will lose your weekends. That's why I decided to spread the challenge out over four weeks.
And in each week, we are going to have a different focus.
First Week – Days 1 – 5
In the first week, you'll practice how to…
introduce yourself
talk about the place you live
introduce your favorite places and give reasons for this
talk about other people
and much more!
And all that in a fun and interactive way in our exclusive member's group.
Second Week – Days 6 – 10
In the second week, we are going to talk about languages. Specifically…
what languages you speak
why you have learned foreign languages
how you learn foreign languages
what the best way to study is
and the linguistic situation in your city or town.
Third Week – Days 11-15
In the third week we are going to deal with a very troublesome part of the Portuguese language — the past tense. But you don't need to worry — again, interactive practice is what you need so you can speak with confidence.
And because you're going to get hands-on feedback on how to express yourself more naturally, the more you speak, the better you'll get.
This week we are going to talk about your past and you'll practice how to discuss…
what you used to do as a child
what you did last weekend
interesting things you've done in the past that you would like to share with your fellow students
places you've been to…
Fourth Week – Days 16-21
And in the fourth week, we are coming full circle with the future tense — it's actually very easy once you get the tricks of the trade.
In the fourth week, you'll be discussing…
places you would like to know
goals for the future, near and far
self-improvement goals
weekend activities
and more!
On the last day, we are going to have a group meeting so we can share our impressions of the challenge and evaluate how far we've gone.
A simple system that gets you results
I can't guarantee that you will be completely fluent after 21 days. If I promised that I would be a quack.
But I can guarantee that if you follow dutifully the challenge for 21 days you'll feel much more confident in your ability to speak Portuguese…
And enjoy your conversations much more!
Here's what you'll get once you join the challenge:
21 days of programming, with speaking exercises devised to get you talking about simple yet good topics for conversation;
Practical exercises that can be finished in one sitting, so you don't have to waste your time trying to figure out what to do;
Personal feedback on the exercises, if you post them in our group;
Live weekly follow-up sessions with me, Eli, to help you sort out your doubts — and you can even jump up the stage and speak Portuguese with me directly!
A direct line to me after the course, so if you have any questions down the road you'll always have a reliable source of information;
Lifetime access to the challenge, with free updates, so you'll never miss out on anything that we add to the course!
In addition to this challenge being limited — after all, we have a schedule to follow — there is another reason that blocks many people from joining a challenge like this. It's the "I'll do that tomorrow" syndrome.
I say that because I know it firsthand. And I know you're a clever person and already latched onto what that syndrome he consists of. But in case it's not perfectly clear, here it is:
I'll do that tomorrow when I have more time… When I feel better… When I feel I can actually speak so I don't make myself look like a fool…
And thus, many people live their lives with so much backlog of things they would like to have done but didn't do because they postponed it.
It comes as no surprise that at a later stage in their lives many people regret not what they have done, but what they didn't do.
So, don't wait. In addition to being fully guaranteed — something we will talk about in a minute — you have everything to gain, and nothing to lose.
Our unconditional money-back guarantee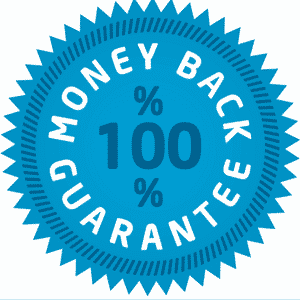 I offer you a simple guarantee.
You can go through the 21 days — or four weeks — of the challenge. On the last day, take stock. See what you have learned, what you have done, and what you have taken out of the program.
If you don't feel thrilled with all this, just send me a message by the end of the challenge (or on the following day, if you forget) saying that you would like to be un-enrolled from the course. Your access to the challenge will be canceled, and I will issue a full and prompt refund of your admission fee.
I will ask no questions, and you can keep everything you may have downloaded as my way of saying thank you for having given the challenge a try.
And how much is my investment to join the challenge?
Your biggest investment in the challenge will be your time. And don't take me wrong, you'll have to invest some money, but your time is more important. If you cannot commit at least 30 minutes a day for the next 21 days — excluding weekends — I don't want you to join.
You will not benefit from the program, and you won't be happy with it.
And if would like to join us today, your admission fee is $49.
With that amount of money, you might buy yourself 10 days' worth of snacks, or maybe 10 lattes at Starbucks (Venti size). If you could skip only 10 days of that, you would have paid your admission fee and perhaps even changed your eating habits 🙂
Click on the button below, insert your information, clear your admission fee, and you'll be all set.
I'll wait for you on the other side.
Eli Sousa
Portuguese teacher and founder of Portuguese with Eli
PS. Does the 21-day challenge replace a conversation session?
No. And it shouldn't.
This challenge is going to be the prep work you do so all your conversations from now on feel much easier. You will surely benefit from what you learn here, and you will get techniques and tricks you can apply in your future conversations.
But no, this is not a conversation lesson.
PPS. in addition to the main challenge — with all accompanying materials, instructional videos, live sessions, and full support — you'll have access to a bonus library.
In it, I'll include everything that I thought would be helpful for your journey from now on.
PPPS. and after you finish the challenge, you'll have one book credit. With that, you are entitled to one book from our Classics library. They are intermediate-level books especially adapted by us, books that every Brazilian who goes through our national educational system has read or knows of. After all, reading is the second-best thing you can do to improve your vocabulary long-term (the first would be living in Brazil!). Your book credit will be sent directly to you, and you can claim your book anytime within the next 365 days.
PPPPS: act now if you can. If I am not personally promoting the challenge right now and you're reading this page, it means you somehow landed on this page but enrollment is closed. If you complete your enrollment after the challenge has started your registration will be canceled, your money will be given back, and you'll be able to join us only in the next edition. So, if I am promoting this right now, you still have time. Join the challenge today.
Portuguese With Eli
4043 Rua Silveira Martins
Salvador, BA 41000-000
www.portuguesewitheli.com